So here's where I sort the juice of my month from the pith and focus on the happy , the positivity and gratitude in my life 🙂
The first day of the year started with a zing when I published my blogpost of #TheZenZing series.  Focussing on putting the energy back in your life, and with it the energy, too!  The 2nd post is next on my blog and it's all about being mindful of the breath…
I was very pleased with little 'old' me half way through the month when I stood my ground with Our Little Bear.  She pushed the boundaries, tried my patience and I didn't cave in.  Go me!
Then I had reason to be very proud when she got 2 house points at school for her homework.  Nothing quite beats that proud moment, hey?
The following day (3 in a row!), hubby bought me a bunch of flowers.  Just because he wanted to.  Now, that one never fails to put a smile on my face and always makes me feel grateful.  Always.
I had some time with hubby over a lovely pub brekkie which was great!
And here we are, going into February already.
I'm linking this up with Lexie at Those Words She Wrote for #365doh, what will you share?
~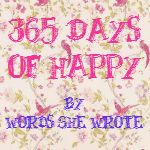 ~
Is it someone's birthday and you don't know what to do?
Let me write a personal rhyme especially for you.
~
A personal rhyme from you to them,
it's unique, bespoke and easy.
Get in touch today, waste no more time,
It's really easy peasy…