This week I've been extremely sneezy,
Add to the mix a little bit wheezy.
It's made me something of a grumpy moo,
Wait… sorry, pass another tissue!
~
Achoo, achoo!  I'm feeling groggy,
Can't think straight, my head's all foggy.
I love to be 'at one' with nature
And enjoy the weather when it's a scorcher.
~
But you know what hayfever?  I've had enough.
I'm done with groggy, I'm done with 'rough'.
The windows are shut, no makeup on,
Antihistamines ready, hayfever be gone!
~
Did you guess that my #WordoftheWeek is 'hayfever'?!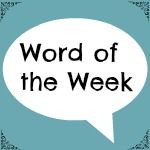 ~
Is it someone's birthday and you don't know what to do?
Let me write a personal rhyme especially for you.
~
A personal rhyme from you to them,
it's unique, bespoke and easy.
Get in touch today, waste no more time,
It's really easy peasy…