I've made a decision.  And I'm going to stick to it.  For one day and one day only (or maybe two if I'm lucky!), I'm going to kick procrastination into touch and today I'm going to tell you how I'm making the most of my writing time.

Today I've got an 'open book' if you'll pardon the pun.  I've got a day of hanging around because of circumstance.  For one day and one day only (or maybe three if I'm lucky!), I'm going to split my day up into bite-sized chunks of time with the intention of stopping procrastination.  (Reading The Muddled Manuscript's post on procrastination has made me determined not to procrastinate! – thanks Chrissie…)  I'll allow myself slots with no day dreaming!  I'm going to get another chapter of my #NextBigThing project written.
It's going to be a 'go-with-the-flow' session.  With paper. No electronic devices to distract me.  Just a kettle, a pen and many, many pieces of paper.
You'll see, next week for #WhatImWriting I'll be feeling all smug!  I can't wait to get stuck in…
Just you see if I don't!
Written for #WhatImWriting (click the badge in the main picture below to visit the hosts' blogs)
~
And Post Comment Love (click the badge below to go to Vicky Welton's hosting blog)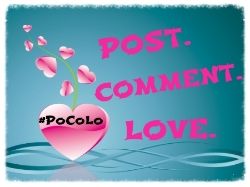 Follow Carol Cameleon's board Blogs I love and think you will too! on Pinterest.