How to make a family tree …
I don't generally post or even talk too much about Christmas once the big event has been and gone.  It is, after all, the end of January already.  Resolutions have been made and probably broken (not mine, why wait until new year to make a change?…I made a change with a zing last year!) and the decorations have long come down…  except in our little bear's bedroom.
Father Christmas knows how much she loves her colouring and saw the paper chains that she made for him which adorned our Christmas tree.  And so, Father Christmas very kindly left our little bear a long tube under our tree which read:
Great paper chains, Love Father Christmas.
Our bear got new felt tips and pens for Christmas (glitter, neon, normal writing) and took great delight in getting started with colouring her paper tree.  Myself and hubby also helped a little and we all enjoyed some quality family time, tucking into the 'odd' (!) chocolate coin, mince pie and biscuit along the way.  In fact, the colouring sessions with our little bear will be treasured for years to come, I'm sure.
The tree was cut out by our bear and is now blu-tacked to her bedroom wall.  It looks lovely and colourful.
What do you think?
Are you a papery peep?  Then visit Jocelyn's blog (the brainchild behind #PaperyPeep) by clicking the badge below…
What will you share?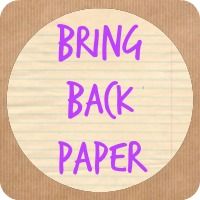 ~~~~~~
Follow Carol Cameleon's board Blogs I love and think you will too! on Pinterest.