Last month I shared my reading stack for #PaperyPeep and this month I have well and truly got my paper groove on!
I've been reading 'Whispers Underground' by Ben Aaronovitch.  It appealed initially because:
"…down in the dark, in the tunnels of London's Underground, the buried rivers, the Victorians sewers, there are whispers of vengeance from beyond the grave."
Oooh a murder on the underground !  And so far so good.  It's extremely well-written and the snippets of 'theory' behind the magic is amazing.
What else papery?  I got some pretty coloured envelopes for postcircle for an absolute song 🙂  Our little bear's multitude of stickers have been used to jazz up the writing paper (while she isn't looking of course…) and I've been receiving lovely snail mail too.
What could be better?  And with my thirst for paper sated, let's see what November will bring… 🙂
Are you a papery peep?  Then visit Jocelyn's blog (the brainchild behind #PaperyPeep) by clicking the badge below…
What will you share?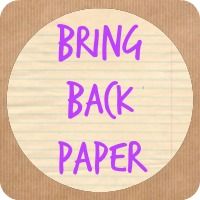 ~~~~~~