Aside from my Featured Author's reviewed book, It's been a fair while since I've had a chance to read a proper book.  Lately, I've noticed various books with recommended reads.  And when I saw 'Elizabeth is Missing' by Emma Healey, I immediately wanted to read it.  (I will be looking at why in the book review in the coming weeks, so look out for that! A whole blog post in itself!)  It being in 2 book clubs' recommended reads did help because I tend to have so little time for reading books for pleasure, I'd rather read a recommended one than feel that pang of disappointment when a book I've chosen doesn't hold my attention.  I've been dipping in (and very nearly not putting down on each occasion) and I'm hooked!
I'm working on another project at the moment.  A proper 'deadlined' writing project so I did wonder if I should have started it yet.  However, it's all about the discipline and willpower!
I've also been sent a book to review, which I'm also thoroughly enjoying.  More on that in a few weeks too 🙂
So with reading blogs and books, my word of the week is most definitely 'devouring'!
Linking up with Word of the Week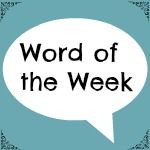 ~
Read my emotional and inspiring true story 'Diary of a Complicated Pregnancy'. Available here. 50% of sales go to the charity Action on Pre-Eclampsia. …and visit my facebook page or follow me on twitter @ComplicatedPreg
Also available – my indispensable guide to avoiding 'Working Mum Guilt'. Whether you are about to return or have already started back, this book offers practical solutions and feedback from real Mums with real families in real situations. Covering topics such as Post Natal Depression, childcare options, yours and your child's development and time management – Ditch the guilt today! … and visit my facebook page or follow me on twitter @WorkingMumGuilt
Follow Carol Cameleon Writer & Blogger extraordinaire's board The #blog of VirtuallyAllSorts ~ where will your click take you today? on Pinterest.