This is the week where I have been tested.  I've been beavering away on a writing project and have focussed like I've never focussed before.  This focus has seen me shun distractions as an absolute necessity.  It's been a test that I have (mostly) won!
The biggest and most challenging test has come from our Little Bear though.  You know when your little one starts school and they immediately change? From the way they adopt phrases from their new-found friends to the way they also adopt some older (and younger!) childrens' attitude!…  Our Little bear has been testing the waters and pushing the boundaries over what are, in actual fact, quite small things.  Such as asking for the TV after her bath, which she knows is a no-go from me in the week because I love to snuggle up with a book, not stimulating electronics!  To be fair, and I'm not claiming to be parent of the year by saying this, these mini stand-offs are few and far between.  I put it down to mine and hubby's consistency!   But aha, there lies the rub – hubby was at work during this mini stand-off, I was the lone-ranger, I was getting very tired and I knew our little bear was too because of a later-then-normal birthday party the day before.  And with the party came the inevitable, the obligatory sugar-rush just at bed-time wind down time.  Not ideal but such is life!
1 tired tested parent + 1 tired testing little bear =
a fiver on the little bear…
I stood my ground while being asked 3 times if she could have TV after her bath.  My no-nonsense tone did me proud and I won!  Our little bear walked up the stairs herself with minimal fuss.  On reading this, it may not seem like a big deal but I was proud, I was triumphant and our little bear still told me she loved me before lights out 🙂
And that is why my word of the week is 'tested'!
Linking up with Word of the Week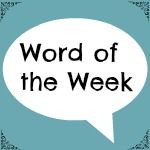 ~
Read my emotional and inspiring true story 'Diary of a Complicated Pregnancy'. Available here. 50% of sales go to the charity Action on Pre-Eclampsia. …and visit my facebook page or follow me on twitter @ComplicatedPreg
Also available – my indispensable guide to avoiding 'Working Mum Guilt'. Whether you are about to return or have already started back, this book offers practical solutions and feedback from real Mums with real families in real situations. Covering topics such as Post Natal Depression, childcare options, yours and your child's development and time management – Ditch the guilt today! … and visit my facebook page or follow me on twitter @WorkingMumGuilt
Follow Carol Cameleon's board Parenting blogs I love… And think you might too! on Pinterest.