So, I told you last week that I was going on my 'no procrastinating' day and I'm very happy to say that I actually did it!
I focussed, re-focussed and re-focussed again, several times.  I wrote and wrote and wrote.  With no editting.  And it still hasn't been editted.  But it will be.  And when it is, I will have completed the next step of my #NextBigThing project 🙂 I've chosen my title and I'm (finally) in the process of approaching an illustrator (the very rough sketches have been done).
The very fact that I'm almost over the awful lurgy that I've been in the midst of for over a month (!) and have found some more energy, is exciting in itself!  I've also cleansed my crystals and have been re-energising and healing with the help of new-found knowledge from my Crystal Healing Practitioner's course.
I'm feeling good!  I'm back! 🙂
Written for #WhatImWriting (click the badge in the main picture below to visit the hosts' blogs)
~
And Post Comment Love (click the badge below to go to Vicky Welton's hosting blog)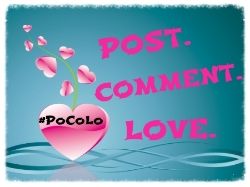 Follow Carol Cameleon's board Blogs I love and think you will too! on Pinterest.