Paper Activities to Make You Feel Better
A quick flick through my diary tells me that the #PaperyPeep linky is here!  A-ha… another chance to look back at all things paper on my blog.  My last post was in October so somehow it seems that November passed by in a bit of blur and I somehow managed to miss it completely (PaperyPeep not November!  That was lurgy-ridden, which might explain why I missed November's link-up).  Well my blog in general seems to have mentioned the lurgy rather too much, but that's the way it has been.  The lurgy has given me plenty of scope for this post though!  Why?  How?  Well, it hasn't got a streaming nose, isn't coughing like an old hack, isn't sleep deprived and hasn't got a box of balsam tissues (must have balsam!!) dutifully sitting next to it.  So how has the lurgy come in useful?
Our little bear came a cropper to the sickness bug and unfortunately had to have a couple of days off school.  But when she began to recover, she began to explore her things that she doesn't get all that much chance to explore these days because she's usually at school (the irony!)  We made festive paper chains for the Christmas tree and we enjoyed exploring a couple of her Usborne books.
I find them both very interesting and have learnt so much myself!  One is the 'Children's Picture Atlas', the other is 'Little Encyclopaedia of the Human Body' given to us by a friend.  Both are intriguing and our little bear is soaking all the information up, asking lots of difficult challenging questions along the way.
My grey matter has really been working very hard thinking up simple ways of explaining how various parts of the body work.  The book does this too of course but it's a year or so ahead of her age group  and she's such a little sponge that I feel it's important to explain on her terms and in her language.  She hasn't really had the atlas book off the bookcase since she started school and it astounded me how well she's doing with her reading and how differently she interacted with it.  She was telling me all about the world!  We see pretty much daily how well she reads when she reads her school book but this book really brought it home… I'm actually lost for words (well, nearly!)
Then there's the Frozen jigsaw puzzle set (I blogged a fair bit on MummyBearsBlog about Frozen before the blog merger!).  I absolutely adore jigsaws and it seems our little bear has got the knack of them too 🙂  And the show stealer for me is of course a little card that she made which says "flowers for mummy and daddy".  Escuse me while my heart melts!
So yes, it was a very papery-based month (or 2!) for the Bear house.  Let's see what January will bring… 🙂
Are you a papery peep?  Then visit Jocelyn's blog (the brainchild behind #PaperyPeep) by clicking the badge below…
What will you share?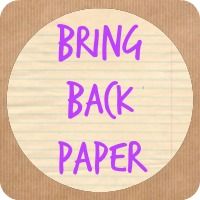 ~
~~~~~~
Follow Carol Cameleon's board Blogs I love and think you will too! on Pinterest.