No matter how many times I type away on the keyboard of my laptop, nothing, but nothing beats writing and the flow of ink on paper.
I actually find typing therapeutic, being a touch-typist.  Give me a good, springy (not 'clompy') keyboard and I'm quite happy to tip-tap my way through the QWERTY keyboard.  But I still revert back to writing on paper.
I don't use an electronic diary or calendar.  It's paper all the way for me.  I love my desk diary too.  It's got daily words of wisdom in the form of quotes to give me food for thought.
I'm not adverse to technology, far from it.  (I'm a blogger for starters and I've published ebooks!)  But you see, I'm talking about writing.  Raw writing.  My creative soul needs the raw material to conjure up the ideas, to manipulate the ideas, to cross out, to edit, to doodle (badly) while I procrastinate…
Writing 'raw' also gives my eyes a much-needed break from the screen too.
Yes, I'm a papery peep at heart, at least when it comes to writing.  Are you a papery peep?  Then visit Jocelyn's blog (the brainchild behind #PaperyPeep) by clicking the badge below…
What will you share for #PaperyPeep #BringBackPaper?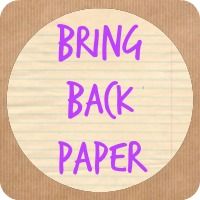 ~~~~~~