It's a common phrase isn't it?…
Bad things come in 3's
or words similar to that!
So, let's flip it (you know how I love to turn a negative into a positive!)
Let's find 3 things to be happy and grateful for!
(or even more… I mean, why not?!)
In my new weekly feature, I will look back over my gratitude journal and bring to you my #HighlightsofHappy , which is great because it gives me the opportunity to look back and be grateful all over again 🙂
I will then round it off with one word that sums up my happy.
So, what am I happy and grateful for this week?
Alarm clocks! After relying on my phone alarm and having somehow silenced it, we had that awful moment of waking up and realising you've slept in… by a whole hour!  Yikes!  Fortunately it was only hubby that was at work that day and no school run 🙂  He now uses his phone alarm too and we've borrowed our daughter's alarm clock.
For strawberry trifle, mint ice cream and crispie cakes.  Not all on the same day though!
For donating a few pennies to blood donors on my way in to do a food shop.  They were the ones on the bikes that transport the blood to where it's needed and I had 2 blood transfusions when I gave birth to our daughter.  One of these collectors may well have transported my blood and saved my life… Dramatic, perhaps, but true.
For taking 20 minutes to start getting the garden prepared for autumn.
For leftover pizza… yum!  Without the burnt hands this time…
For duvets as the air changes temp with the seasons.
For our daughter making her new teacher a 'welcome' card.
That the tooth fairy collected our daughter's tooth and left a shiny golden coin 🙂
For seeing friends again on the school run.
~
My happy word this week is 'welcome' because it really shows how much our daughter likes her new teacher.  
After her old one left such a good impression, it's a huge relief!
How about you?  I'd love to hear about your 'happy' in the comments below or tweet me @AllSortsHere using #HighlightsofHappy
Go on, share your happy with me!
Thanks 🙂
 ~
Sharing with…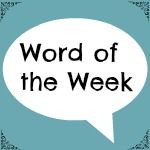 ~