So it's Word of the Week time and what a week!  Just when I thought it was safe to say "be gone ye lurgy, good riddance!" it came back with a vengeance and it got our little bear 🙁  She was so disappointed when we told her that she couldn't go to school on the second day of her sickness because she was still poorly.  "But Mummy, I'm not sick anymore!" she implored.  Poor little bear didn't understand.  As horrible as the lurgy was, it was actually quite nice to cosy up on the sofa with her.  I'm not sure if she dozed off but I know that I did at one point… during the 1st 14th sitting of 'Black Beauty'!
All was not lost because as she recovered, we made paper chains together for the Christmas tree.  She decided that Father Christmas would like to see her tree when he delivered her presents, so we had a good couple of hours of just chilling out and making 🙂  We're very grateful that it was this week and not last, when we saw her in her first Christmas Production.  Phew, that was close…
Poorly little bear and an extremely sleep deprived and caffeine-fuelled Mummy Bear aside (I very rarely have caffeine these days so you know it was bad!), the week was very quick and productive.  After an average of maybe 4 hours sleep for a couple of nights (I could never do newborn days again!), followed by a solid, deep sleep and another coffee just to see me through, I find myself on a roll with creating content for this here blog, linking, commenting, sharing… the whole blogging/writing shebang.  This keyboard is tap-tap-tapping away 😉
After a run-down of my goings-on this week, what would you say my #WordoftheWeek is??
Caffeine!
Linking up with Jocelyn at The Reading Residence's #WordofTheWeek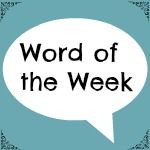 ~
You know that book you've always wanted to turn into an eBook?
You know that you've never known how to do it?
Well, Virtually All Sorts can show you how ~ create your eBook the Easy Peasy way today!
Follow Carol Cameleon's board Blogs I love and think you will too! on Pinterest.