As a Work Out of the Home Mum (WOHM) as opposed to a Work at Home Mum (WAHM), I am always aware that there may be will be occasions that I can't attend events and workshops at our little bear's school.
While sorting through the various items in her book bag among the colouring-in cut-outs, her Reading Record, her Communication Book, I glanced the school logo on a piece of paper and immediately realised it was a letterhead.
I tried to take it in but skim-read about a Phonics workshop.  My immediate thought was "can I take time out of work?".  My manager is pretty flexible and I made a mental note to ask the next day.
…then I realised it was a day I finish early for the school run
…then I realised it was a day I could just 'go'
…then I realised there was no need to check with anyone
Anything in my diary could be and would be moved!
…then I was relieved and ecstatically happy
We have phonics posters up at home and I love, love, love working through phonics with our little bear.  Hubby and I both do.  But to get some guidance and ensure we are 'teaching' her the correct way?  Well, you can't put a price on that!
Linking up with Word of the Week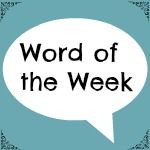 ~
Read my emotional and inspiring true story 'Diary of a Complicated Pregnancy'. Available here. 50% of sales go to the charity Action on Pre-Eclampsia. …and visit my facebook page or follow me on twitter @ComplicatedPreg
Also available – my indispensable guide to avoiding 'Working Mum Guilt'. Whether you are about to return or have already started back, this book offers practical solutions and feedback from real Mums with real families in real situations. Covering topics such as Post Natal Depression, childcare options, yours and your child's development and time management – Ditch the guilt today! … and visit my facebook page or follow me on twitter @WorkingMumGuilt
Follow Carol Cameleon's board Parenting blogs I love… And think you might too! on Pinterest.