Last week for #WhatImWriting I told you about my Crystal Healing Practitioner's course and how I am learning more and more about crystals – more than I could ever have imagined.  Well, I've ploughed on with my course and as such haven't actually written a single sausage for my #NextBigThing project.
However, it's still been an utterly fantabulous week on the writing front.  Why?  Because I've produced some work that I'm truly proud of:
Excited but scared ~ A piece which I wrote around a quote.  There were a few ideas shuffling around my head all week but ultimately I wrote this piece of fiction and when I did put pen to paper, it flowed extremely well.  I should have liked to have 'polished it off' more before hitting 'publish' but time was not on my side.  What I found almost amusing was that one of the first things that came to mind from the quote, which involved 'status' was social media and digital interaction!  Which was quite apt because…
Prisoners ~ is a poem that I wrote for my linky which is shortened to #www.  With this piece, it wasn't so much last minute but more a case of writer's block and when I broke down what my linky was all about, the inspiration finally hit.  It began as non-rhyming and quickly turned into rhyming which I love because you tend to get more a pace up which in turn lends itself to a natural end.
The Bonfire Night Party Alibi ~ Another piece of fiction written at pretty much the last minute.  (There seems to be a patten of writing while under pressure forming here!)  Again, this flowed from my pen and was written very quickly.  With writing this, I felt that I really experimented and left my comfort zone.  I love writing poems and I'm usually a litte hesitant when writing short fiction (that's part of the fun for me!) but this really was an exception to the rule!
Overall, a really satisfying week for writing from my point of view.  Do you write best under pressure or do you need a more calm approach?
Written for #WhatImWriting (click the badge in the main picture below to visit the hosts' blogs)
~
And Post Comment Love (click the badge below to go to Vicky Welton's hosting blog)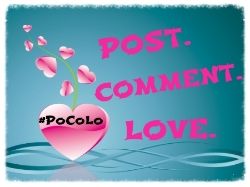 Follow Carol Cameleon's board Blogs I love and think you will too! on Pinterest.