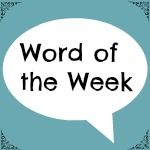 Without a shadow of doubt, my Word of the Week is 'plugged'.  In more than one sense of the word.
Last weekend I decided to bite the bullet and go self-hosted with my blog.  Exciting? Yes!  Terrifying?  Yes!  Satisfying?  Yes, yes, yes!
As a result of this, I have been installing several plug-ins, clicking everywhere, changing passwords and making sure everything is working technically.  I'm still working on the whole look but these things will come…
I promised myself that I would 'take the plunge' and start my blog linky that I've had on the backburner for a while.  "Right, no more excuses!" I told myself.  So not only have I been plugging in my plug-ins but I've also been plugging my new linky!
Now you see why my word is 'plugged' this week!
I won't take advantage of the lovely
Jocelyn at The Reading Residence
and her fab linky by doing more plugging directly here in this blog post.  If you look back on my last couple of blog posts and the next one later today, you will find out more about it!
~
You know that book you've always wanted to turn into an eBook?
You know that you've never known how to do it?
Well, Virtually All Sorts can show you how ~ create your eBook the Easy Peasy way today!