Your weekly dose of happiness…
Let's spread the happiness!
It's a common phrase isn't it?…
"Bad things come in 3's"
or words similar to that!
So, let's flip it because everyone deserves a little happiness … (you know how I love to spread happiness and turn a negative into a positive with positive thinking !)
Let's spread that happiness and find 3 things to be grateful for (or even more… I mean, why not?!)
In my weekly feature, I look back over my gratitude journal because that's the great thing about gratitude and using my gratitude journal – it gives me the opportunity to look back and be grateful all over again 🙂  That's why, in my weekly feature, I look back and bring to you my #HighlightsofHappy.
I round it off with one word that sums up my happy…  why not do the same?  If you're a blogger, why not share your happy post from the last week or so?  If you're on instagram, why not tag your happy snap #HighlightsofHappy and link up your pic here?  If you're on twitter, why not tweet your happy?  If you're all 3, why not do all 3??  The linky is below. (To link your insta happy snap, simply click on your insta pic, copy the url and paste into the linky tool!)
(If you join in with my #HighlightsofHappy community on instagram, I post up my favourite snaps every Monday on instagram.  You can join in with highlightsofhappy on instagram – share your happy in a giveaway)
…so what's been making ME happy?
So hubby had a touch of man-flu.  To be fair I could sympathise because I've been feeling rough for a couple of weeks… so despite the traditional making fun of our partners who have sneezed and them announcing that it's flu, I was grateful to be able to get him some proper comfort food!
Unfortunately our cat Rosie was run over, which I realise will never be a happy thing to report but the whole point of my blog and this feature is to look at the best of something.  With that in mind, I'm grateful for a few things in the aftermath: our daughter didn't see any of it, despite it being right near to our front door; our neighbour is a vet, hadn't yet left for work, heard the commotion and dealt with Rosie for us, taking away a lot of the trauma (we gave her a box of chocolates as a thank you… least we could do); that our cat didn't suffer, it was clearly a quick departure from this world; that we've got lots and lots of happy memories of our cat.  And a few days before this happened, I posted up a short clip of Rosie Posie on instagram  And she's a very happy cat here…
…and this too…
That we kept safe on Storm Doris day!  For non-UK readers, I'm sure that you're aware of Doris.  She caused havoc and mayhem, we kept our other cat in all day (which she wasn't too happy about until she sniffed by the back door, felt the air tunnel come through the air block and then nonchalantly reversed back to cosiness!).  Our daughter's school had to change the normal collection point for safety too.
That our daughter got another green letter for 'getting tops marks in a grammar and punctuation test'.  As I explained in last week's #HighlightsofHappy post, there is a traffic light system for behaviour and effort, each day each child starts on yellow and it goes from there.  Our girl's doing so flippin well at school and though some of it might be in the genes, a massive amount is down to interaction and effort in the early years… I've said before how we've read to our daughter every day of her life (though she now reads to herself or us, or the cat or teddies!)  And we're really reaping the benefits now.  Or should I say, our daughter is.  So very, very proud.
For snuggle time at the end of the week and watching Gnomeo and Juliet.  Haven't seen it?  Do it!  It's laugh out loud funny and that's fine by me!
~
So that's my happy and my happy word is 'safe' because Doris wreaked havoc…
'How about you?  I'd love to hear about your 'happy' in the comments below or tweet me @AllSortsHere using #HighlightsofHappy
Go on, share your happy with me!
Thanks 🙂
 ~
Sharing with…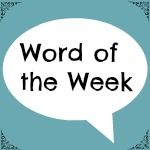 ~