When Our Little Bear busied herself and told me not to look, I was intrigued.  Then, all was revealed: "Mummy, I'm inviting you to my tea party!"
And invitation gracefully accepted, I got down on my knees to share the spread.  Our Little Bear proceeded to ask me what I would like to drink and she handed me a cup complete with saucer to enjoy.
I thoroughly enjoyed our little bear's tea party.  Here's what you need to recreate your own:
A blanket or two tastefully laid down – I felt like royalty!
A suitable tea set.  We used a pretty Rapunzel tea set but others are available (including a Frozen one, which I'm told by our bear, she would really like for her birthday!)
Oodles of plastic food including foods that really don't go together like croissants, peas, orange segments, bananas…
'Table' manners!
And lashings of fun and love 🙂
~
Have you enjoyed an similar activity with your little one recently?
~
Sharing for…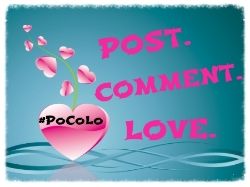 ~
Follow Carol Cameleon Writer & Blogger extraordinaire's board The #blog of VirtuallyAllSorts ~ where will your click take you today? on Pinterest.