Hello and welcome to my take on the #AtoZChallenge.  You can find out why I'm taking part in 'From Alpha to Zulu and everything in between…'
Onward!
According to
wikipedia,
kudos
is from Ancient Greek and
means acclaim or praise.
With that in mind, I would like to give kudos to the following blogs.  These are just a handful of the ones that I regularly read and I feel they deserve a bit of a 'spotlight' moment 🙂  Read, digest, comment, share the blog love…
There are many, many more blogs that I regularly dip into but
these ones stuck in my mind…
Kudos indeed 🙂 
~
 This post is for 'K' in the #AtoZChallenge.
~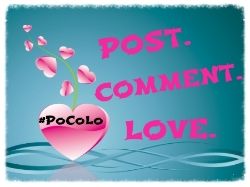 ~
Is it someone's birthday and you don't know what to do?
Let me write a personal rhyme, especially for you.
Pop it in a card, on a pretty label or a letter,
A bespoke rhyme, what a great idea, sit back, relax… that's better!
A personal rhyme from you to them,
it's unique, bespoke and easy.
Get in touch today, waste no more time,
It's really easy peasy…
Follow Carol Cameleon Writer & Blogger extraordinaire's board Blogs I love and think you will too! on Pinterest.