What am I writing?  Well, while taking a break from my current big project, my lovely hubby dared to interrupt me (!) and drew my attention to the
Meditation Masters
page on Facebook asking for guest bloggers.  I had mentioned to him about the possibility of writing a guest post or 2 and hey presto, up it popped in his Facebook feed!
So, I'm writing an article which I hope will be accepted by them and possibly a little rhyme too.
I'm a firm believer that any writing opportunity should be seized and regular readers will know that I'm a huge advocate of promoting a healthy writing mind.  Meditation certainly helps in achieving that, in my experience.
How do you achieve a healthy 'writing' mind?
~
Written for #WhatImWriting
and #PostCommentLove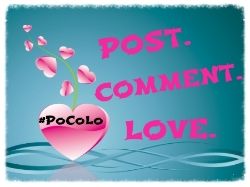 ~~~~~
Is it someone's birthday and you don't know what to do?
Let me write a personal rhyme especially for you.
~
A personal rhyme from you to them,
it's unique, bespoke and easy.
Get in touch today, waste no more time,
It's really easy peasy…
Follow Carol Cameleon's board Blogs I love and think you will too! on Pinterest.