So here's where I sort the juice of my month from the pith and focus on the happy , the positivity and gratitude in my life 🙂
We could all use a little gratitude…
 April was all about the #AtoZChallenge for me as a blogger.  While it's hard work to keep up with the posts (even when you schedule), it's very rewarding to find fresh, new blogs to read, comment on and share.  And of course, it works the other way too – and I've felt extremely grateful that people have taken the time to do the same with my blogposts.
We could all use a smile…
Now that challenge is over for another year (I sound like I'm world-weary but I don't mean to!), there is something new to look forward to on this here very blog!  It's something to make me, you and everyone smile…  And that's got to be a good thing 😉  On the last Sunday of each month we're going to create a virtual wave of positivity.  I'm going to host a Twitter party on the theme of #PositiveThinking.  No negativity allowed 🙂
We could all use some happiness…
And finally in April, the sun shone, I even did some writing outside in the beautiful sunshine and even after the rain that we had too, the garden is now lush and ready for Summer.  🙂
Let's see what May brings.
I'm linking this up with Lexie at Those Words She Wrote for #365doh, what will you share?
~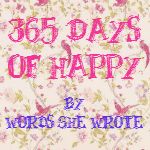 ~
~