So here's where I sort the juice of my month from the pith and focus on the happy , the positivity and gratitude in my life 🙂
And it's time to look back on May and its offerings!
But where did May go?  It all seemed to pass by in a blur to be honest.  That's mainly due to 2 Bank Holidays (if you're in the UK) and lots (and lots) of blogging.
After completing the #AtoZChallenge I decided to set myself a further challenge and blog every day until further notice (well, every day except Sundays. But even then I'm considering joining in with Silent Sunday…)  Why?  Because I absolutely love blogging and all that it entails.  I'm passionate about it and want to grow my blogging wings 🙂
We could all use a little gratitude…
That aside, I've started to do some yoga every other day and it's really making a difference to my energy levels.  Okay, so I'm not *actually* jumping out of bed and stretching out on my yoga mat with a big smile on my face.  That'd just be a bit odd.  But I am getting up earlier than normal (and earlier than hubby and Our Little Bear) to do 10 minutes of stretching and breathing.  I'm managing to stretch that little bit more each time I do it, so I'm feeling that benefit that way too.  Why am I grateful for doing yoga?  It's freeing up some time in the evenings to do some writing which I'm very grateful for.
We could all use a smile…
You know that big smile I mentioned just now?  Well there have been plenty, which is always a good thing!  One of those things is that Our Bear is loving a good book and can read by herself now, too.  Amazing!  She's gone up 2 reading levels in the space of 2 weeks (maybe even less).  It's a #ProudMummy(and Daddy)Moment indeed 🙂
…And we could all use some happiness…
That's a snap shot of May.  Let's see what June brings.  See you next month 🙂
What about you?  What have made up your happy days?
I'm linking this up with Lexie at Those Words She Wrote for #365doh, what will you share?
~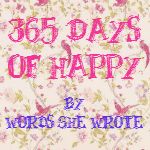 ~
~
 Follow Carol Cameleon Writer & Blogger extraordinaire's board My zen 🙂 on Pinterest.