Well, what a busy, busy week again in our household.  Aside from being a jealous cow of 'Mum-on-the-go', I've been considering 'my time' and taking some of that time to relax and breathe… I've also fitted in some happy reflecting too.  Phew!
In other news… Our girl decided last Summer that she would like to be a dentist.  This was after a stubborn wobbly tooth refused to come out…  After an emergency dentist's appointment, one very brave girl later decided that she would like to be a dentist but wouldn't "be able to work when it's dark." (or words to that effect.)  A seasonal dentist then!
This week she declared that she would like to be a hairdresser and then a day or two later she told me she wanted to be a Head Teacher, because she would be able to give people stickers for good work…
This has come off the back of her having 3 visits to the Head Teacher since she started school for good work in class and her homework, and a certificate of merit for her handwriting.  (Lots of Proud Mummy – and Daddy – Moments here!)
So after all this careers guidance from our little girl, my word of the week is most definitely 'vocation'!
Linking up with Word of the Week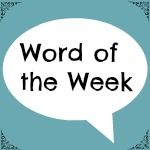 ~
Follow Carol Cameleon Writer & Blogger extraordinaire's board The #blog of VirtuallyAllSorts ~ where will your click take you today? on Pinterest.