I have discovered that paper reigns.  Quite appropriate that I blog about it for my March #PaperyPeep post then…
Our Little Bear's class has been learning about The Queen's birthday, the monarchy and all things London.
This week she popped a colouring in sheet in her book bag to bring home.
It had been completed during one of the many Queen-related activities at school and Our Little Bear decided that she would like to send it to Her Majesty for her birthday…
Great idea!  Oh, but wait, she decided this the day before her birthday.  It doesn't matter much in a 5 year old's world of course but still… you can't send royalty a belated birthday 'card'!  I don't fancy a trip to the Tower of London – I value my head!
No problem… technology to the rescue.  "We can scan it in and email it to The Queen," I told Our Little Bear.
Not so.  There is no email address for anything Queen-related.  It seems that paper and snail mail really do rule!  So a belated birthday card it was!  At least it had a first class stamp on.
Was that a wink I saw from The Queen as I popped the stamp on her birthday card?…
~
Are you a papery peep?  Then visit Jocelyn's blog (the brainchild behind #PaperyPeep) by clicking the badge below…
What will you share?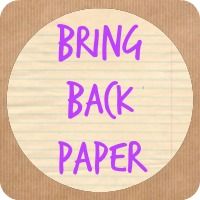 ~
Also linking up to
~~~~~~
Follow Carol Cameleon Writer & Blogger extraordinaire's board The #blog of VirtuallyAllSorts ~ where will your click take you today? on Pinterest.