5 ways to have fun with your cat
Our house is generally a very chilled out house and I honestly believe one reason for that is our cat.
She's such a snuggly cat who loves to sit on your lap and when you walk through the door after a busy day, she's usually there waiting to rub against your legs, purring away.
And when you finally sit down at night, she's jumping up to curl on your lap.
(or our daughter's car seat, as this photo shows!)
And that's lovely because it means I can't get up to 'just quickly' do that thing!  I can only give a head scratch and indulge in the dulcet tones of her purring contentedly.
Three years after getting our cat, I struggle to remember what it was like without her around.  But what I'm sure of is that she helps bring so much calm to our house.  Animals feel stress too.  Usually off us and that's why having fun with your cat is just as important as them having the right cat or kitten food to replace all that energy.  Good food and good fun are an integral part of their wellbeing.
And our cat certainly knows how to have fun!
Here are 5 ways we have fun with our cat (helped along very well by some fab cat toys by the Natural Pet Toy Company):
We use something long and light to dangle in front her eyes, bringing it quickly out of her reach when she moves towards it.  Our 7 year old loves playing this game with her.  A ribbon or shoe lace work as well as anything.  Chances are, they'll jump up to chase it around.  It's great exercise for them, and fun to watch.  You can turn it into a kind of 'dance off'!
Roll something along the floor and we watch her go after it!  We often hide a treat inside to make it even more fun for her.
Give her a good scratch and belly rub.  It's so much fun when our cat 'leans' in for more rubs and scratches.  It's like a tickle-fest!
Using the same toy as the 'dangle game', we drag it along the floor in front of her, pulling it away from her.  She loves to chase it and tries to grab it with her paws!
And when we've all had plenty of fun and games, we settle down for a chill on a comfy chair, encouraging her onto whichever lap she chooses (usually the 7 year olds actually – they've got a special bond!).  We watch some TV or just chill out and chat or listen to music.  Or maybe do some reading while she cat naps.  I've been known to join her for a cheeky cat nap too…!  It's just as much fun and just as important to chill out together this way.  Though I don't think I'd fit in the home-made cat 'house/bed' that our daughter made for her (below)…
If you're still stuck for ideas, here are some other extracurricular activities to consider…
How do you have fun with your cat?  I'd love to hear!  Please comment below or tweet me @AllSortsHere .
Thanks.
*This post is a collaboration with WHISKAS®, but all thoughts are my own. Check out their website for more information on their cat food and their YouTube channel for fantastic Kitten Kollege videos.
~
We'd been thinking seriously about getting a pet (or even pets ) for a while but we knew that it couldn't be a dog because our little bear was very jumpy around dogs.
Maybe a Talking Tom?  Hmmm been there, done that…!
Maybe a hamster? Not ideal because of the relatively short life-span and that fact they're nocturnal…
A goldfish? Maybe, but again the life span's short and although they're very relaxing to watch, you can't interact with them much.
A cat sounded ideal because:
They're relatively independent
They curl up on your lap
They don't need walking (bonus due to us both working and hubby's shifts meaning it can be hard for me to get out in the evening once our bear's in bed).
Yes, we decided we would get a kitten.  That way, the family pet could grow up with our little bear.
…or 2 kittens!  When hubby went to choose a cat, there were 2 that 'chose' him and had apparently also decided to 'hang out' together!
The timing for introducing pets to the household was 'purrfect' (sorry!) – it was our little bear's 1st week in Reception at school.
Though she settled in really well and coped with the expected tiredness really well, she would come home from school and chat to the kittens about her day.
While I pottered about in the kitchen getting her snack and then tea, I could hear her telling the kittens about someone or other and what they had been doing, what they had been saying, what they had been learning!  Yes, our kittens know phonics, what our little bear had in her lunchbox and the ditties for forming all the letters of the alphabet!
It's not just after school, it's also before school.  Because in the morning when hubby or I open her bedroom door to wake her up, in run the cats, the black one especially, to say "good morning" in their own cat-like way.  They worked wonders for getting her up and out of bed 🙂  They still do.
Our cats have taught her about:
responsibility
caring
personal space
respect (not stroking them if the're eating and not touching them after a visit to the vets 'to stop them having babies'.)
One day we'll have to deal with the grief, of course.  Until then, we will enjoy them.
As the nursery rhyme goes:
"They followed her to school one day

It was against the rules!

It made the children laugh and play to see the cats at school"
…and that is the therapy – they make our little bear laugh.  You can't say fairer than that.
Have you got family pets?  Do you think they make a difference to your little one's behaviour?
~
Sharing for…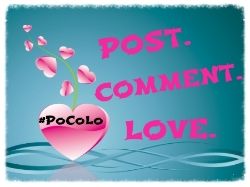 ~
Follow Carol Cameleon Writer & Blogger extraordinaire's board The #blog of VirtuallyAllSorts ~ where will your click take you today? on Pinterest.