So here's where I sort the juice of my month from the pith and focus on the happy , the positivity and gratitude in my life 🙂
We could all use a little gratitude…
Let's kick start with how I rocked with gratitude in the form of a little poem ~ Look What We've Got.  I do like a rhyme!  p.s Look out for my post in the coming weeks on my gratitude rock 🙂 
We could all use a smile…
Our cats didn't quite know what to think of our little bear's paper goat which she decorated for Chinese New Year while in her 'Frozen' Anna dress and Elsa wig!  She never fails to make me smile and appreciate a simpler take on life.
We could all use some happiness…
When my current writing project has slowed down a little, I intend to set myself some more writing challenges, like this one that Maddy at Writing Bubble did.  I do love a good writing project but I also enjoy a diversion, a change, a challenge, a chance to let myself 'go' a little 😉
Let's see what March brings.
I'm linking this up with Lexie at Those Words She Wrote for #365doh, what will you share?
~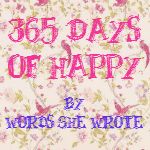 ~
~