Your weekly dose of happiness…
Let's spread the happiness!
It's a common phrase isn't it?…
"Bad things come in 3's"
or words similar to that!
So, let's flip it because everyone deserves a little happiness … (you know how I love to spread happiness and turn a negative into a positive with positive thinking !)
Let's spread that happiness and find 3 things to be grateful for (or even more… well, why not?!)
In my weekly feature, I look back over my gratitude journal because that's the great thing about gratitude and using my gratitude journal – it gives me the opportunity to look back and be grateful all over again 🙂  And that's what I do here, in my weekly feature, I look back and on my #HighlightsofHappy.
I round it off with one word that sums up my happy…  why not do the same?
If you're a blogger, why not share your happy post from the last week or so in the linky below?
If you're on instagram, why not tag your happy snap #HighlightsofHappy and link up your pic in the linky below?
If you're on twitter, why not tweet your happy with #HighlightsofHappy ?
If you're all 3, why not do all 3??  The linky is below. (To link your insta happy snap, simply click on your insta pic, copy the url and paste into the linky tool!)
(If you join in with my #HighlightsofHappy community on instagram, I post up my favourite snaps every Monday on instagram.)
…so what's been making ME happy?
 It's a week that I've definitely had to look in my little notebook because it seems to have passed by in a bit of a blur!  It's so lovely to have a long bank holiday weekend but I've no idea what day it is!  But yes, I'm grateful for a long
weekend
!
The weekend included time with
family
.  There's nothing quite like enjoying yummy, home cooked food and watching your daughter spend time with her cousins.  Double win!
and this…
For discovering that our daughter's friend didn't like what I had planned for tea when I picked them up from school…  I thought I'd checked but must have misheard.  Freezer to the rescue because I'd gone to pick them up from school with no purse and couldn't pop to the shop on the way home!  And thank goodness for fish fingers.  The other option was burgers, so I was quite surprised that her friend doesn't like them and grateful that the burgers were cook from frozen and weren't defrosted already!
Seeing our daughter interact with various friends she has over to play after school and in the holidays is really interesting.  They're all lovely friends and all have different personalities and our girl tends to interact slightly differently with them all but is always herself – as far as growing up and learning socially as a 7 year old can allow you to be.  I'm grateful that she has lots of lovely friends.  Perhaps they'll all be at secondary school together.  Time will tell!
~
So that's my happy and my happy word is

'interaction' 

because there's been a lot of interaction this week due to that long weekend, seeing family and friends.  Perfect word!
'How about you?  I'd love to hear about your 'happy' in the comments below or tweet me @AllSortsHere using #HighlightsofHappy
Go on, share your happy with me!
Thanks 🙂
 ~
Sharing with…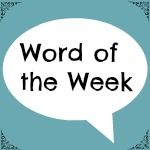 ~