It's a common phrase isn't it?…
Bad things come in 3's
or words similar to that!
So, let's flip it (you know how I love to turn a negative into a positive!)
Let's find 3 things to be happy and grateful for!
(or even more… I mean, why not?!)
In my weekly feature, I look back over my gratitude journal and bring to you my #HighlightsofHappy , which is great because it gives me the opportunity to look back and be grateful all over again 🙂
I round it off with one word that sums up my happy…
…so what's made me happy this week?  You can find out by watching my short vlog or read the words below 🙂
(and don't forget that you can join in with my #HighlightsofHappy on instagram linky and community.  I post up my favourite snaps every Monday and a new instagram linky goes live every Monday too!  Link up to the latest post here!
I'm grateful that:
I took delivery of a (rain-spotted!) parcel from the post office.  I had a 'sorry we missed you' card from the postie and knew it was likely to be 1 of 2 things.  So, I set up my tripod and unboxed as I went!  Out popped Kiki from Message in a Bottle.  Our daughter was nearly as excited as me when she saw the cuddly toy!
I took our daughter on a random trip out when we would usually be getting tea ready.  We went to pick up hubby from work and to miss the rush hour traffic on the way, we stopped off at a cafe for a pastry!  On the way out, she saw one of those grabbing machines and said that she didn't have her money with her but she could pay me back when we got home.  And with no prompting, she did 🙂
I solved the issue of the volume on the unboxing vlog!  I couldn't work it out and was close to deleting (would rather not post than have massively dodgy sound!) before I realised that my ear phones were plugged into the monitor…  Whoops!  Won't be making that mistake again!
For arranging 2 play dates in the next 2 weeks after school.  I love when our girl's friends come round!
For seeing the super moon with hubby!  The clouds parted (or at least thinned out!) just as we looked out.  And then we got our daughter up out of bed to see the occasion – she was excited, despite having her bedtime reading interrupted!  A browse through my blog and my Virtually Everything About Me section in my sidebar will tell you that I'm interested in healing, reiki, crystal healing and universal energies.  The moon is no exception and I find it utterly fascinating…
So that's my happy this week and my happy word is 'super' because it really was and we looked out at just the right time 🙂
How about you?  I'd love to hear about your 'happy' in the comments below or tweet me @AllSortsHere using #HighlightsofHappy
Go on, share your happy with me!
Thanks 🙂
 ~
Sharing with…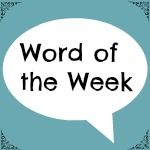 ~