It's a common phrase isn't it?…
Bad things come in 3's
or words similar to that!
So, let's flip it (you know how I love to turn a negative into a positive!)
Let's find 3 things to be happy and grateful for!
(or even more… I mean, why not?!)
In my new weekly feature, I will look back over my gratitude journal and bring to you my #HighlightsofHappy , which is great because it gives me the opportunity to look back and be grateful all over again 🙂
I will then round it off with one word that sums up my happy.
So, what am I happy and grateful for this week?
Our little girl getting a party invitation from one of her best friends at school

~ no big deal, you might think… 6 year olds tend to get lots of party invites.  Perhaps.  But when I look back at how our daughter has settled into her new school and made new friends, it makes me very happy.
For meeting up with friends that we haven't seen for a while ~ our girls were excited to see each other, they played together and we had a good chin-wag.  And the weather held off for us while they ran amock at an open day too!

For a nice hot shower after swimming with our little girl

~ there's something amazingly amazing about a nice, hot shower in your own shower after a pool session. (Sometimes you have to ignore bad grammar to get the point across!)  🙂
For a lovely smoothie made by our little girl and hubby ~ while I watched the men's singles final at Wimbledon… well not actually at Wimbledon.  But I had my feet up and was cheering our man Murray on!  And the smoothie was delish.

For hearing our daughter sing a goodbye song that she's been learning at school

~ the Head teacher is leaving the school for pastures new this year and the school have learnt a song to sing.  She's made quite an impression on our lives.
Hearing a good friend's positive news on the health front ~ more often than not, we really don't have anything to moan about do we?

That our daughter got a commemorative coin for the Queen's 90th birthday celebrations

~ our community held an event which most of the school ended up attending.  It was wonderful to hear them all sing along to the National Anthem.  Look out for a blog post to follow about the coin 🙂
What a lovely lot of happiness this week!
My word of the week is 'friendship' because it seems to feature twice here.  Just lovely 🙂
I'd love to hear about your 'happy' in the comments below or tweet me @AllSortsHere using #HighlightsofHappy
Share your happy with me!
Thanks 🙂
 ~
Sharing with…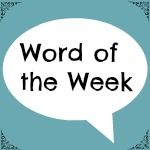 ~