It's a common phrase isn't it?…
Bad things come in 3's
or words similar to that!
So, let's flip it (you know how I love to turn a negative into a positive!)
Let's find 3 things to be happy and grateful for!
(or even more… I mean, why not?!)
In my weekly feature, I look back over my gratitude journal and bring to you my #HighlightsofHappy , which is great because it gives me the opportunity to look back and be grateful all over again 🙂
I round it off with one word that sums up my happy…
(and don't forget that you can join in with my #HighlightsofHappy on instagram linky and community.  I post up my favourite snaps every Monday and a new instagram linky goes live every Monday too!  Link up to the latest post here!)
…so what's made me happy this week?
Strictly speaking, this is last week but I couldn't not mention it could I?  Last week, our daughter got a Head Teacher's award in assembly for 'outstanding behaviour and getting 10/10 in all her spellings for a whole term'.  To say that we were proud of her is easily the understatement of the year so far!  The Head called out her name, which was a surprise for her and she went up to get her certificate.  Afterwards, she came over to us briefly.  I got a chance to thank her teacher after school too 🙂
A school trip on the horizon, which is always exciting isn't it?
Buying a new magazine, which I will be reviewing shortly on here.  It's right on my wavelength (and therefore totally fits in here).  Look out for 'Enhancing your Mind, Body, Spirit'.
Friends round for tea.
Sharing our daughter's first *Exciting Things* vlog!  She's so excited and wants to do lots more!
~
So that's my happy this week and my happy word is 'exciting' because that really does sum it all up!
How about you?  I'd love to hear about your 'happy' in the comments below or tweet me @AllSortsHere using #HighlightsofHappy
Go on, share your happy with me!
Thanks 🙂
 ~
Sharing with…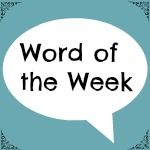 ~