It's a common phrase isn't it?…
Bad things come in 3's
or words similar to that!
So, let's flip it (you know how I love to turn a negative into a positive!)
Let's find 3 things to be happy and grateful for!
(or even more… I mean, why not?!)
In my weekly feature, I look back over my gratitude journal and bring to you my #HighlightsofHappy , which is great because it gives me the opportunity to look back and be grateful all over again 🙂
I round it off with one word that sums up my happy…
(and don't forget that you can join in with my #HighlightsofHappy on instagram linky and community.  I post up my favourite snaps every Monday and a new instagram linky goes live every Monday too!  Link up to the latest post here!)
…so what's made me happy this week?
Well it's been a peculiar week really.  It started off with an issue at school, which was a bit of come-down after last week's Head Teacher award.  But I'm very grateful that our daughter can approach us, speak to us, knows that we'll listen and knows that we'll help her to take action.  Which we've done.  So that's the positive out of the slightly negative.
I'm also happy to have arranged for 2 more of her friends to come round after school and at the weekend.  It's so nice to hear her scheming playing nicely with her friends.
Our local shop is offering daily free fruit for children for the whole of January.  We've only just got around to signing up for it but we've just enjoyed our first free piece of fruit (today in fact!).  Our daughter loves fruit and eats plenty of it so doesn't need any encouragement to consume it but it makes it slightly easier on our pocket.  Win, win!
I got everything, yes everything done on my list one day.  Wow, what a feeling!!  The rest of the week has just about made up for that small victory though!…
Not that I'm wishing time away but for various reasons, a massive amount has been going on here and truthfully, I'm very glad it's gone quickly.  Hello weekend 🙂  THAT makes me happy!
~
So that's my happy this week and my happy word is 'spinning' because at times I've really felt like my head's spinning, that I'm in a bit of a whirlwind and that the plates are going to fall!  But to keep that positive vibe going on, all the 'plates' have either stopped spinning or are under control now 🙂
How about you?  I'd love to hear about your 'happy' in the comments below or tweet me @AllSortsHere using #HighlightsofHappy
Go on, share your happy with me!
Thanks 🙂
 ~
Sharing with…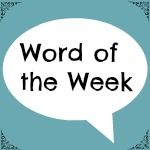 ~