It's a common phrase isn't it?…
Bad things come in 3's
or words similar to that!
So, let's flip it (you know how I love to turn a negative into a positive!)
Let's find 3 things to be happy and grateful for!
(or even more… I mean, why not?!)
In my weekly feature, I look back over my gratitude journal and bring to you my #HighlightsofHappy , which is great because it gives me the opportunity to look back and be grateful all over again 🙂
I round it off with one word that sums up my happy…
(and don't forget that you can join in with my #HighlightsofHappy on instagram linky and community.  I post up my favourite snaps every Monday and a new instagram linky goes live every Monday too!  Link up to the latest post here!)
…so what's made me happy this week?
After seemingly endless questions about what I looked like when I was a baby, I unearthed my baby pics.  Actual physical ones that aren't on a hard drive (showing my age!!).  And it inspired a blog post (of course!) about how you and your child can learn from history.
For making a big dent in some typing work I've undertaken.
For lovely sleep!  More please!
A yummy, very chocolatey pudding made by hubby and our daughter 🙂
For a safe journey on the road in the fog.  But please, please, please people, put your lights on!!
~
So that's my happy this week and my happy word is 'snappy' because of the wonderful memories that looking through old photos brings!  But to keep that positive vibe going on, all the 'plates' have either stopped spinning or are under control now 🙂
How about you?  I'd love to hear about your 'happy' in the comments below or tweet me @AllSortsHere using #HighlightsofHappy
Go on, share your happy with me!
Thanks 🙂
 ~
Sharing with…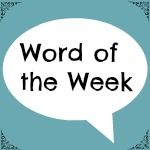 ~