It's a common phrase isn't it?…
Bad things come in 3's
or words similar to that!
So, let's flip it (you know how I love to turn a negative into a positive!)
Let's find 3 things to be happy and grateful for!
(or even more… I mean, why not?!)
In my new weekly feature, I will look back over my gratitude journal and bring to you my #HighlightsofHappy , which is great because it gives me the opportunity to look back and be grateful all over again 🙂
I will then round it off with one word that sums up my happy.
So, what am I happy and grateful for this week?
For time to do some reiki self-treatment ~

I manage yoga most mornings but to do some proper meditation with reiki was just what I needed to 'keep the home fires burning'!

For some time with my little family

at the local coffee shop, chatting over some yummy food and drink.

That our little girl was delighted

when we went summer clothes shopping for her (she's grown again!) and found a My Little Pony top in her size.  AND it's reversible!  Seriously, this was ground-breaking fo her!

For happening upon a box of free teddies ~

on a quick walk round the corner to the shop, someone had left a little basket on the pavement full of teddies with a note saying 'please help yourself'.  So I grabbed a teddy for our daughter called Ollie the Owl!

For seeing our daughter with her grandparents.

 Nothing quite compares to those moments when you hear your child telling them about something in their own little way 🙂

For air-conditioning in my car

~ enough said!

For our daughter's amazing school report

which states she is 'exceeding' and is clearly thriving.  As a parent, all you truly want is for your child to be happy and healthy – if they do well academically, it's a bonus.  And this was a bonus after all we've been through.

For missing major tailbacks in a traffic jam

which meant that I got home in good time, when there were reports of people taking 6 hours to travel 2 miles!

For hearing the words, "Thank you Mummy.  You're the best Mummy ever!". ~

This was after walking our little girl's friend home after a play date after school, popping into the shop and she asked very politely for chocolate.  Yes I know it's cupboard love but still…
Wow, that's a mega lot of happiness this week!
My word of the week is 'simple' because most of these things came about from doing, seeing, saying or hearing something quite simple  🙂
I'd love to hear about your 'happy' in the comments below or tweet me @AllSortsHere using #HighlightsofHappy
Share your happy with me!
Thanks 🙂
 ~
Sharing with…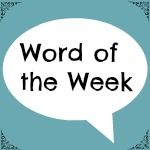 ~