It's a common phrase isn't it?…
Bad things come in 3's
or words similar to that!
So, let's flip it (you know how I love to turn a negative into a positive!)
Let's find 3 things to be happy and grateful for!
(or even more… I mean, why not?!)
In my new weekly feature, I will look back over my gratitude journal and bring to you my #HighlightsofHappy , which is great because it gives me the opportunity to look back and be grateful all over again 🙂
I will then round it off with one word that sums up my happy.
So, what am I happy and grateful for this week?
Well, oodles actually!
For time for me to read a book ~

'Missing, Presumed'
was sent to me as a random act of kindness by fellow blogger Stephanie at Lifeat139A.  I had been 'saving' it for a time when I could really get my teeth into it.  When our little girl was at a sleepover and hubby was at work, I seized the opportunity and got totally enthralled in this book.  Watch out for a review but for now, safe to say it comes  highly recommended by me!

For a nap! ~

Yes, a nap!  After I'd read a big chunk of the above book, I took the chance to rest my tired eyes and had a little rather large nap!

For our little girl running in to join her friends at a birthday party ~

… not even looking back…

For another birthday party that our little girl was invited to ~

she saw a bunch of her old friends from her old school.  It was nice for me to catch up with a few of the parents who I used to see on the school run too.  It was also great to be able to say how much our daughter loves her new school too.

That I had a new book delivered ~

I've decided to read a series and I'm loving it!  But I won't tell you yet which series because I don't want any unintentional spoilers…!

For a lovely fish tea ~

found in the bargain bin. Even better!

For making time for reiki and recharging my crystals.

For a random trip to a science pop-up ~

after a shopping trip for new school shoes, we wandered past the Cosmos science roadshow which was just brilliant.  We plan to revisit over the new few weeks.  Look out for the blog post in the near future!
So that's my happy this week and WHAT a lot to be happy about!  I love that looking back over the last week in my gratitude journal results in this 🙂  My word of the week is 'me' because of my precious me-time which is definitely a highlight 🙂
I'd love to hear about your 'happy' in the comments below or tweet me @AllSortsHere using #HighlightsofHappy
Share your happy with me!
Thanks 🙂
 ~
Sharing with…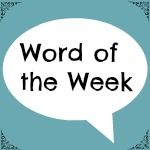 ~